Kirkland is an ideal location for luxury living in the Pacific Northwest with its gorgeous waterfront setting, charming downtown and alluring parks. The city combines small-town livability and urban accessibility. Situated on the eastern banks of Lake Washington, Kirkland is only 11 miles from Downtown Seattle and 5 miles from Bellevue. This convenient location has made the area a popular home for local tech professionals as well as families and retirees.
The Kirkland Area
Kirkland has grown considerably since the city first gained national attention in 1982; the year its baseball team won the Little League World Series. That victory remains a source of pride for locals and is even represented in Kirkland's nickname, "The Little City That Could." In the past decade, this "little city" has seen significant gains in population and development. Nearly 90,000 people call the city home, and interest in Kirkland real estate only seems to be increasing.
Based on mid-census data, Kirkland is the 12th largest city in Washington. The median age of local residents is 38, which is about one year older than the state median. Kirkland's population density is about 4,500 per square mile.
Residents enjoy a relaxed lifestyle that provides close access to urban necessities. Recent developments have included restaurants, shopping centers and office buildings. While the population may be booming, Kirkland has continued to be a pedestrian-friendly town. Locals often walk to the eateries, parks and retail locations throughout the city with a sense of security considering Kirkland is very safe and maintains a low crime rate.
Parks And Attractions
Even before Kirkland was incorporated in 1905, the city attracted many inhabitants due to its lakeside location. Lake Washington, which connects to Puget Sound through a canal, separates Seattle and Kirkland. In addition to Kirkland waterfront homes, this area is lined with many parks. In fact, parks account for 25 percent of the city's total square mileage along the lake.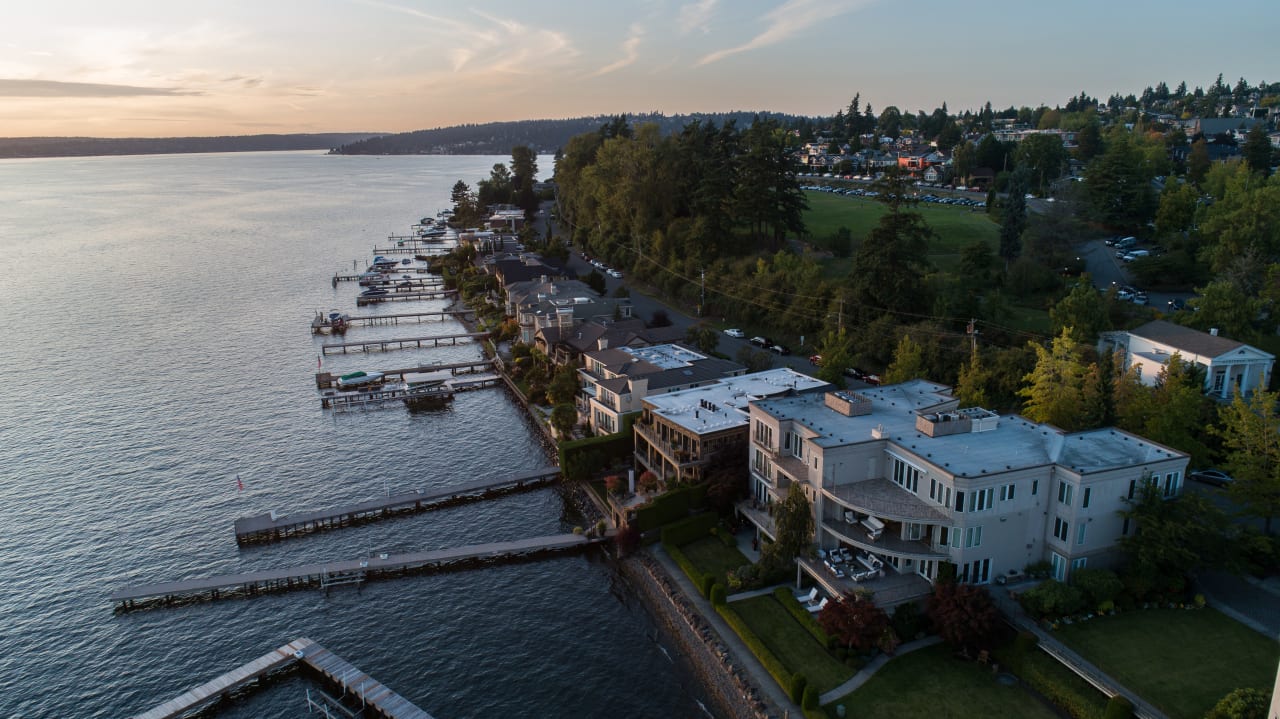 Among the most popular local attractions is Marina Park, which can be found in the downtown district. The park docks offer a perfect launching spot for recreational boaters and anglers who want to catch trout, bass orperch in Lake Washington's fresh waters. Those looking for a place to swim on a warm summer day can head a little farther north to Juanita Beach Park. This sandy beach features an enclosed swimming area and excellent views of the Seattle skyline.
Kirkland's Real Estate Market
Because an increasing number of people are moving to the city, local home values are on the rise. This is especially true for Kirkland luxury homes. In 2000, the estimated median local home value was around $266,400, 13years later this value rose to $415,600. Washington's real estate market shows no signs of slowing, which means that those who buy luxury condos or houses in Kirkland can expect to see their investments grow in the future.
Compared to the housing boom in the 2000s, the market for Kirkland real estate is much more stable. Only about 9 percent of homes in the city have negative equity vs. the national average of around 15 percent.
Kirkland's Neighborhoods
Those interested in purchasing a luxury property will find a range of options in Kirkland. The most popular neighborhood for potential buyers is the Market-Downtown district. This area is home to an array of restaurants, art galleries and the Kirkland Performance Center. With so many nearby amenities and great access to the waterfront, downtown residents enjoy one of the most livable neighborhoods in the Greater Seattle area. While the cost of living may be higher downtown, the median value for homes in the district is more than $800,000 with home values continuing to increase.
Just inland from the Market-Downtown district, prospective buyers will find the neighborhoods of Norkirk and Highlands. Home prices and cost of living are lower in these areas; however, residents still enjoy access to many amenities and local parks. Those interested in Kirkland luxury condos may find better deals in these inland neighborhoods.
Individuals looking for Kirkland waterfront property should be prepared to act quickly. Most downtown homes overlooking the lake don't stay on the market for long. More Kirkland waterfront homes for sale can be found in the Moss Bay and Lakeview neighborhoods, which are just south of downtown. In addition to sporting wonderful lakeside views, homes in these areas are near Bridle Trails State Park, Watershed Park and Northwest University.