With its massive tech centers such as AT&T, Microsoft and Nintendo of America, it is easy for outsiders to forget about Redmond, Washington's small town charm, healthy lifestyle and short commute times. But, between its 30-plus public parks, burgeoning real estate market and bustling local economy, Redmond is one of the most attractive cities in Greater Seattle. For those in the know, it's easy to understand why Redmond was ranked one of the top five best small towns in America by Money magazine in 2012.
About Redmond
Located about 15 miles east of downtown Seattle and just north of Lake Sammamish, Redmond was once a heavily forested frontier. The local abundance of trees and salmon made it a natural home for both loggers andfishermen in the late 1800s. The city did not experience major growth until after the 1963 completion of the Evergreen Point Floating Bridge, which connected the eastern suburbs Seattle. On a good traffic day, Redmond residents can cruise across the bridge to the Emerald City in less than 30 minutes. In addition, the Redmond directly borders the lakeside suburbs of Kirkland and Bellevue, providing plenty of cosmopolitan amenities without ever have to drive into Seattle.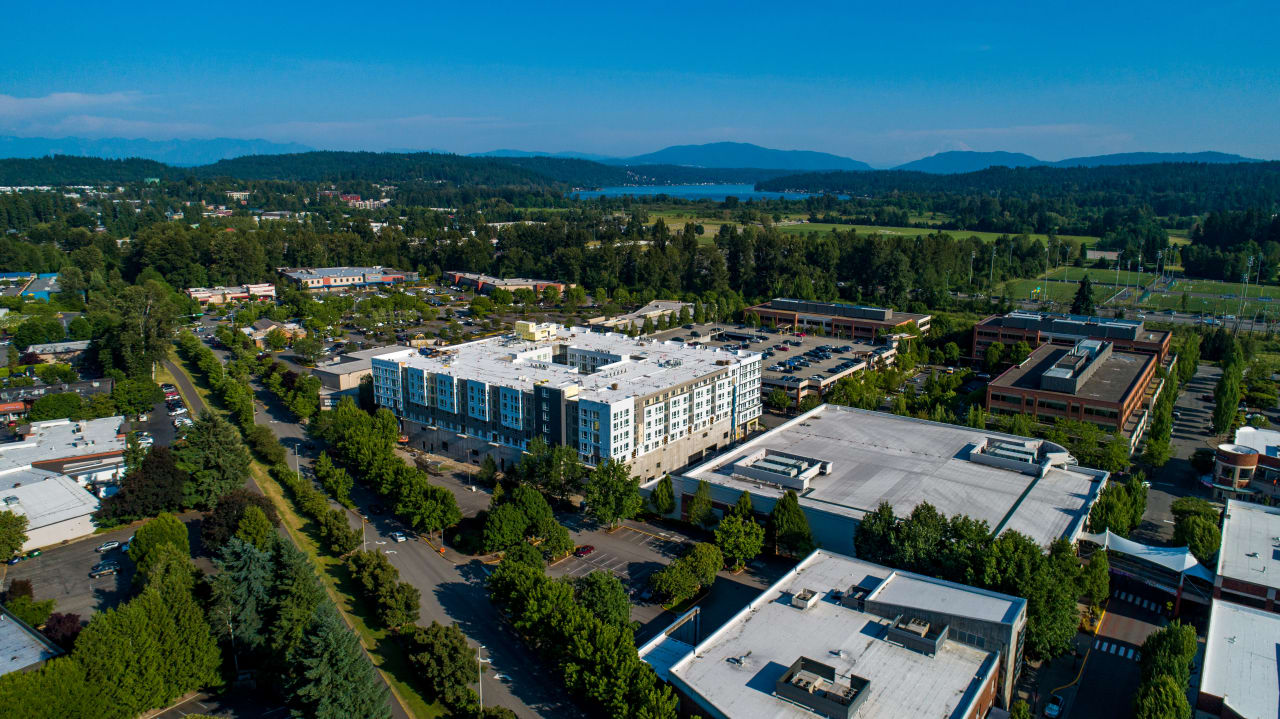 Since 1960, Redmond's population has blossomed from 1,426 to nearly 60,000. About 30 percent of that growth has occurred in the last 15 years. This increase can be attributed to the many businesses that have establised headquarters in the city. The strong business climate has also led to a thriving economy. The city's unemployment rate is 3.4 percent, which is about half of the national average. It remains low due to the multinational nature of many of the area's larger employers.
With a population density of about 3,000 people per square mile, Redmond strikes an excellent balance between the more crowded inner suburbs and the less populated parts of King County. The median age of the cityis 34, which is about 3 years younger than the state average. Despite this younger statistical average, Redmond is also a popular home for active retirees.
Redmond Life
On a typical warm-weather day, one will find many cyclists roaming the local neighborhoods. Redmond is often called the "Bicycle Capital of the Northwest," a designation that city planners take seriously. In addition to having an extensive network of bike trails, Redmond is home to an annual bike race and Washington's only indoor cycling arena. Since the city's downtown area also has plenty of parking for cyclists, many locals simply commute via their bikes or while running errands.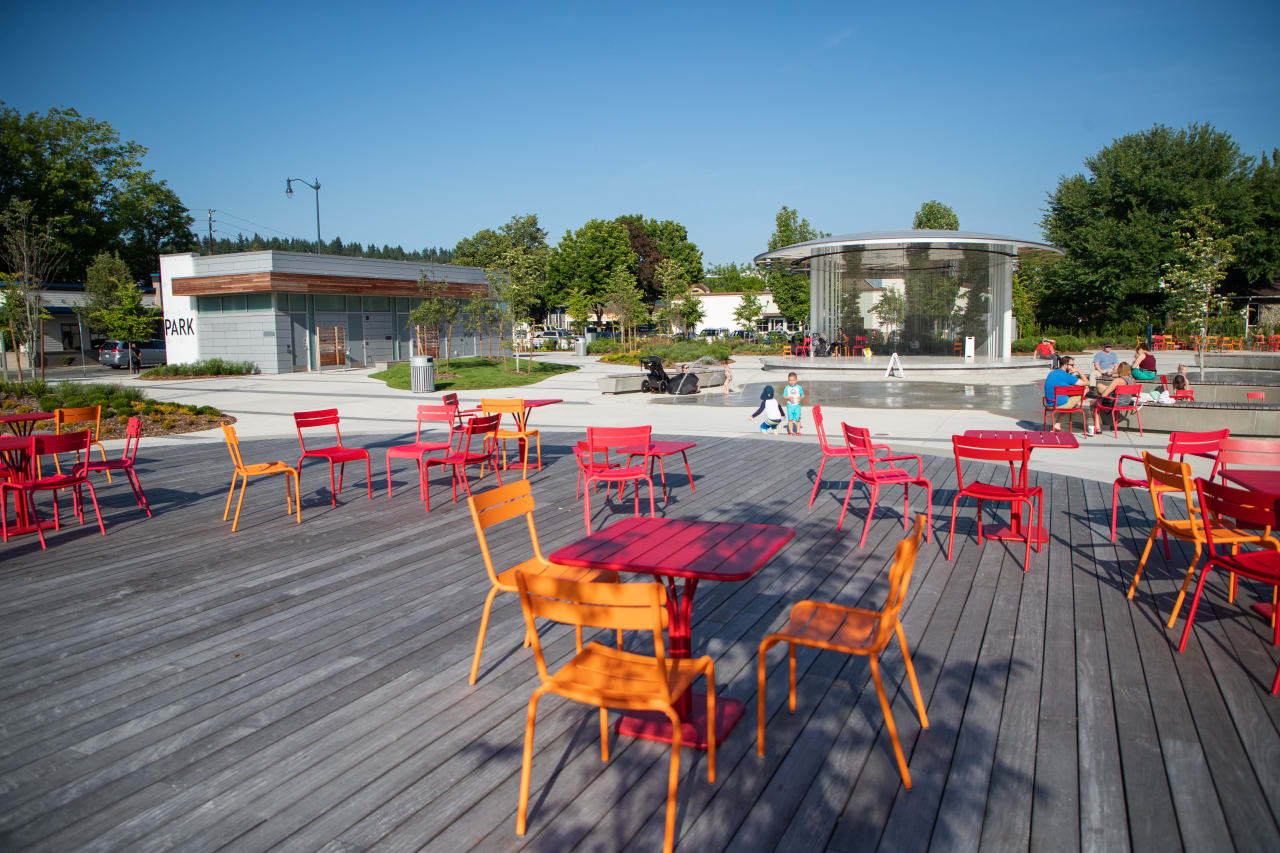 This healthy lifestyle pervades much the culture in Redmond. The city's public park system spans 1,345 acres and includes 29 miles of developed trails. The most popular recreation site for Redmond residents is Marymoor Park, which spans 640 acres on the north end of Lake Sammamish. As the largest park in King County, it features a rock climbing area, an immense off-leash dog park, river trail and concert amphitheater that attracts national acts.
Downtown Redmond is situated about a mile north of Marymoor Park. This bustling area is anchored by Redmond Town Center, a large outdoor mall that was built on a former golf course. The center features more than 100 shops as well as many restaurants and hotels.
Redmond's Real Estate Market
Though it feels like a small town, Redmond is an affluent city with a growing population and vibrant economy. Redmond's housing market is one of the strongest in Washington. Since 2015, the average home has appreciated about 12 percent and so, with the local job market growing, Redmond homeowners can expect their property investments to gain in value.
Due to rising rent prices and low interest rates, many people are interested in moving out of Seattle and buying in areas like Redmond. To satisfy this need, developers are increasing real estate construction throughout the city. They are working with city planners to ensure that this expansion is tasteful and preserves Redmond's unique look and feel. The median price of Redmond homes is about $640,000. This averages out to about $322 per square foot. Those interested in buying luxury real estate will likely find Redmond to be more accessible than nearby Bellevue or Mercer Island.
Where To Find Redmond Homes For Sale
Many of Redmond's most recent developments have been concentrated in the city's downtown area. Here, residents can enjoy being in a trendy neighborhood that's home to the hottest restaurants and retail shops in town. Home prices are slightly lower near downtown, making the area great for those searching for condos in proximity to a lively cafe society.
Just southwest of downtown is Overlake, the neighborhood that's home to the main Microsoft corporate campus. As one might expect, this is an ideal location for those doing business with the tech sector. Homes in this area generally do not stay on the market long and fortune favors the bold.
Those searching for waterfront property can head a little farther east to Idylwood. Situated on the western shore of Lake Sammamish, this neighborhood has a more intimate feel than Lake Washington, yet features some of the more desirable high-end real estate.
Northern Redmond is a more popular area for those seeking larger homes in a quiet community. Neighborhoods like Education Hill and North Redmond feature many beautiful residential areas that are near schools, but nestled well away from major roads.